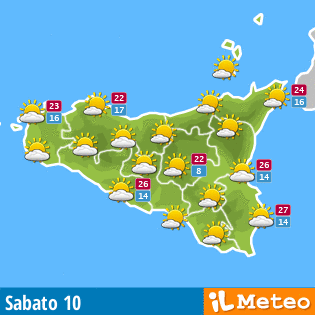 Sicily, a place where nature, traditions, wine-and-food and historical places makes your trip a unique holiday!
The weather in Sicily
The weather in Sicily is the typical Mediterranean one, with
long summertime
, characterized by the Sirocco, that is a very warm, hot and dry wind coming directly from Sahara, and by brief rainy winters with mild climate, above all, long the coasts.
The internal areas have a more severe climate, like on the top of Mount Etna or in the Madonie mountains, where is even possible to ski, in winter.
Thanks to the mild climate,
every month of the year can be the ideal one to discover the beauties of this Island
. For those who loves the seaside, the ideal months to come are from June to October.
PERSONALIZED
HOLIDAYS IN SICILY
If you would like to receive a tailor made travel offer for your next Holidays in Sicily, choosing your favourite dates, accommodations and services, please
CLICK HERE
.
For further information contact our Booking Centre.
Phone +39 095 931367